Speevy
From Djangopedia
Django Reinhardt recorded this tune only once, in 1937.
The signification of the title is uncertain and may be a misspelling. (It has also been spelled "Speevey" and "Spivy".)
Eddie South recorded "Speevy" in Holland in February 1938 (available on CD: Timeless Historical CBC1-086 Americans in Holland, The Great Thirties, Broadcasts and Private Recordings http://www.timelessjazz.com/shop/product_info.php?cPath=24&products_id=613).
Chart: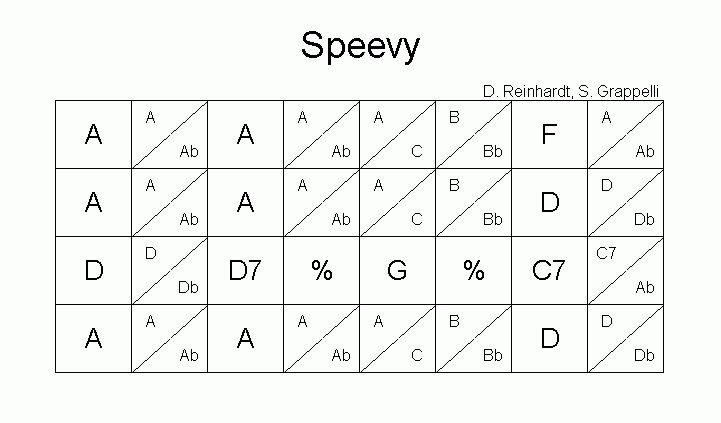 (G#7/) | A7/// | A7/ G#7/ | A7/// | A7/ G#7/ | A7/ C7/ | B7/ Bb7/ | F/// | A7/ G#7/ |
| A7/// | A7/ G#7/ | A7/// | A7/ G#7/ | A7/ C7/ | B7/ Bb7/ | D/// | D/ C#7/ |
| D7/// | D7/ C#9/ | D9/// | D9/ D7/ | G/// | G/// | C+11/// | C+11/ G#7/ |
| A7/// | A7/ G#7/ | A7/// | A7/ G#7/ | A7/ C7/ | B7/ Bb7/ | D/// | D/ G#7/ :||
last time:
(F#7/) | G7/// | G7/ F#7/ | G7/// | G7/ F#7/ | G7/ Bb7/ | A7/ Ab7/ | C/// | C/ F#7 |
| G7/// | G7/ F#7/ | G7/// | G7/ F#7/ | G7/ Bb7/ | A7/ Ab7/ | C/// | C/ C#7/ |
| D7/// | D7/ C#9/ | D9/// | D9/ D7/ | G/// | G/// | C+11/// | C+11/ G#7/ |
| A7/// | A7/ G#7/ | A7/// | A7/ G#7/ | A7/ C7/ | B7/ Bb7/ | D9/// | D9/ ||
Discography Information:
Speevy, 25/11/37, OLA 1988, "Fremeaux 306, Mosaic MD6-190(6 CD Set), JSP 904A."," - Paris - QHCF - Stephane Grappelly (v), Django Reinhardt, Joseph Reinhardt, Eugene Vees (g), Louis Vola (b)",
Online Videos:
Search online videos of "Speevy" in youtube.com
Online Links:
Online Audio: